Salmon Fishing in Scotland River South Esk

O.S. Map 44

The South Esk rises high in the Grampian mountains and, like its near neighbour to the north, can give excellent sport with salmon, although it is perhaps better known for its sea trout. It is a longer river than the North Esk, offering more in the way of publicly accessible fishing. The best months for salmon, given rain, are August, September and October with June and July producing the bulk of the sea trout.
---
Interactive Map of the River South Esk
View Google maps and aerial satellite photographs of the River South Esk
You may also search for information about the area using the map search function
Javascript should be enabled to view this map
map provided by Google Maps API
Change views, e.g. map or satellite photograph, using the buttons at the top.
Zoom in or out on map or satellite view using slider on left.
Move to right or left, up or down using the arrows or by clicking and dragging any point on the map.
Search for information by typing a word or phrase (e.g. "hotel accommodation") into the search box.
Return to original map location by clicking the centre of the circle top left.
---
Salmon and Sea Trout Fishing on the South Esk
The upper course of the South Esk down to the foot of Glen Clova can provide excellent sport given good water, and here the Kirriemuir Angling Club issue visitors permits for seven miles of the river upstream of Cortachy, but the best of the fishing on the South Esk is from the confluence with the Prosen Water down to the Montrose basin. The river swells in size on being joined by the Prosen Water, near Cortachy, below which lie some excellent rocky holding pools on the productive sea trout beats of Inshewan and Finavon and the more gentle, gravelly runs and pools down past Tannadice and Brechin to the lower river beats at Kinnaird and Bridge of Dun, just above the Montrose basin.
| | | |
| --- | --- | --- |
| | | |
| South Esk at Shielhill | | South Esk- Sea Trout Fishing |
| | | |
Angling Clubs and Associations
Kirriemuir Angling Club
Contact the secretary:
Ross Watson, 2 Angusdale, Main Road, Westmuir, Kirriemuir. Tel: 01575 574597
Montrose Angling Club
Community Office, George Street, Montrose.
River South Esk (Upper) - Fishing Map
To view a larger scale map of a particular section of the South Esk, click on a selected area of the map below.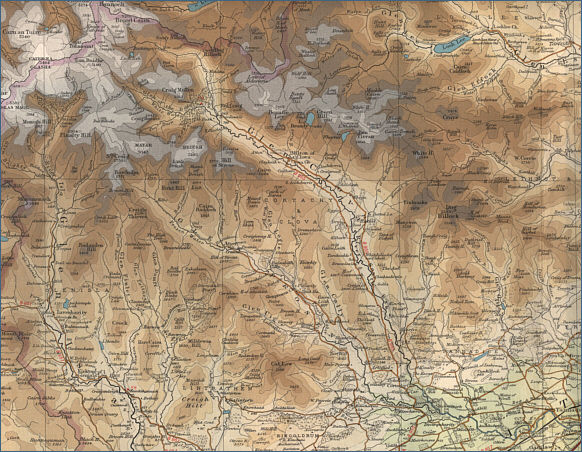 click on map to select an area to enlarge
---
River South Esk (Lower) - Fishing Map
click on map to select an area to enlarge
The maps on this website have been reproduced with the permission of Collins Bartholomew.
Please note that these maps may date back several decades. Much of the human detail will have changed but the character of the rivers and lochs, and the trout and salmon in them, will be much the same as they have always been.
In addition to the information provided here, I would recommend that anyone planning a fishing or walking trip in Scotland should equip themselves with a compass and the appropriate Ordnance Survey map. The most useful of the O.S. maps for the fisherman is the Landranger series, scale 1:50,000. For each of the lochs and rivers listed here, I have given the relevant O.S. Map number. See Ordnance Survey Maps