Salmon Recipes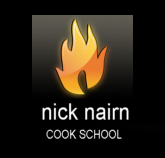 Copyright Nick Nairn
| | |
| --- | --- |
| Seared Salmon with hot potato and tomato salad | |
| | |
| | |
400g (14oz) salad potatoes ( such as Anya or Charlotte)
1 garlic clove, crushed
4 tablespoons extra virgin olive oil
1 tablespoon balsamic vinegar
freshly ground sea salt and freshly ground black pepper
350g (12oz) cherry tomatoes, halved
25g (1oz) fresh basil leaves, roughly chopped
1 tablespoon sunflower oil
4x 115g (4oz) salmon escalopes (see page 10)
juice of ½ lemon
25g (1oz) Parmesan cheese shavings
Cooking Method
1 Cook the potatoes in a pan of salted boiling water for about 20 minutes until just tender.
2 Meanwhile, mix the garlic, olive oil, balsamic vinegar and seasoning together in a mixing bowl. Add the tomatoes and basil and mix well.
3 When the potatoes are cooked, drain and cut in half and add to the tomato mix, tossing well to coat.
4 Heat the sunflower oil in a hot frying pan, add the salmon escalopes and fry for 2 minutes on one side only. Turn on to a plate, fried-side up, and season with salt pepper and lemon juice.
5 Add the Parmesan to the potato and tomato salad mix and divide between 4 serving bowls. Place a salmon escalope on top of the salad and serve.