Salmon Recipes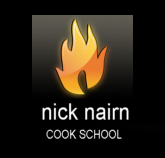 Copyright Nick Nairn
| | |
| --- | --- |
| Peppered Salmon with Whisky Cream Sauce | |
1 tablespoon black peppercorns, crushed
½ tablespoon white peppercorns, crushed
2 x 175g (6oz) salmon steaks or darnes
1 level teaspoon Dijon mustard
freshly ground sea salt
15g (½ oz ) butter
1 tablespoon whisky
150ml (¼ pint) double cream
1 tablespoon chopped fresh chives, plus extra to garnish
Cooking Method
1 Mix together the crushed peppercorns. Smear the salmon steaks all over with the mustard and then press the peppercorns into the cut sides of the salmon - just enough to give it a nice thin coating. Season with salt.
2 Heat a frying pan until hot. Add the butter and, as soon as it starts to foam, lay in the salmon steaks. Reduce the heat to medium and fry the steaks for about 3 minutes on one side to brown them.
3 Turn up the heat, flip the steaks over, then splash in the whisky. Boil fast until the whisky has almost disappeared, then pour in the cream. Carefully scraping up any bits that are sticking to the bottom of the pan around the steaks, bring to a fast bubble.
4 Boil for 1 - 2 minutes until the sauce starts to thicken, then taste and season with more black pepper if necessary, and some salt. By this time the salmon should be just cooked - test with the tip of a knife; if it is still a wee bit pink, simmer over a low heat for a further minute. Stir in the chopped chives and serve immediately, garnished with the extra chives.