Site Contents
Salmon Fishing River Irvine Scotland
O. S. Map 70
The River Irvine shares a common estuary with the River Garnock at Irvine. The River Irvine flows from its source in Lanarkshire for 25 miles to the sea at Irvine, on its way flowing through a variety of scenery - agricultural, industrial and residential. In the past the river was heavily polluted but water quality is now improving and the river and its fish stocks are steadily improving, largely due to the work of the River Irvine Improvement Association.
Catches on the River Irvine are estimated to be in the region of 100 salmon a year, plus a few sea trout, running from July onwards with the best months September and October. The salmon fishing is owned by the Crown Estates and is let to several local angling clubs. The most productive stretch is between Kilmarnock and Darvel, with most fish taken on spinner. Permits are available from Irvine Angling Club (tel 01294 273381) and, for the water controlled by Kilmarnock A. C., contact Torbet's Tackle Shop, the Strand, Kilmarnock.
River Garnock
The Garnock is a smaller river, rising to the east of Largs. At only 15 miles long, it is the smallest of Ayrshire's salmon rivers. With improving water quality, the Garnock might yield up to around 80 salmon in a season. Fish generally arrive at the end of July. The most productive part of the river is between Kilbirnie and Dalry. Visitor permits are available on local angling club water.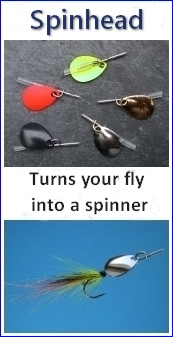 Resources
Angling Clubs and Associations
Irvine Angling Club
Kilmarnock Angling Club
Kilbirnie Angling Club
R Russell, R&T Cycles, Glengarnoch, by Kilbirnie
Dalry Garnock Angling Club
McGuigan's Newsagents, 43 New Street, Dalry.
Dreghorn Angling Club
Day and season permits available for fishing on the River Irvine from local outlets such as Dreghorn Post Office
River Irvine - Fishing Map
To view a larger scale map of a particular section of the River Irvine click on a selected area of the maps below.
The maps on this website have been reproduced with the permission of Collins Bartholomew. Please note that these maps may date back several decades. Much of the human detail will have changed but the character of the rivers and lochs, and the trout and salmon in them, will be much the same as they have always been.
In addition to the information provided here, I would recommend that anyone planning a fishing or walking trip in Scotland should equip themselves with a compass and the appropriate Ordnance Survey map. The most useful of the O.S. maps for the fisherman is the Landranger series, scale 1:50,000. For each of the lochs and rivers listed here, I have given the relevant O.S. Map number.