Site Contents
Salmon Fishing River Ayr Scotland
O. S. Map 70

The Ayr is the largest of the Ayrshire rivers running from its source near New Cumnock the thirty nine miles to Ayr. The Ayr is a spate river but drawing water from a larger catchment area than neighbouring rivers. Spates, therefore, tend to last a bit longer, falling off in days rather than hours. In a good season 500 salmon might be taken and a few sea trout.

The main runs of salmon on the River Ayr begin with the first July spates and continue through to October, given the all important rain. A good proportion of the salmon are taken on bait or spinner but there are also some nice stretches of fly water. Visitors may fish most of the river, including the Ayr Town water and the water controlled by local angling associations. Most of the river is, in fact, controlled by local angling clubs, which offer permits via Gamesport Tackle Shop in Ayr's Sandgate.
Angling Clubs and Associations
Auchinleck Angling Association
G McClue, 61 Coal Road, Auchinleck, Ayrshire.
Mauchline & Ballochmyle Angling Club

Secretary: Max Stobbs (07916346774)

Day Permits £15 available from:
Gamesport
Sandgate
Ayr
KA7 1BX

P & R Torbet
Strand Street
Kilmarnock
KA1 1HU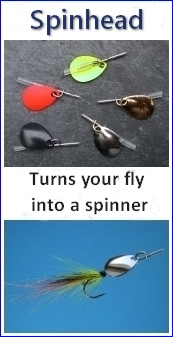 Resources
River Ayr - Fishing Map
To view a larger scale map of a particular section of the River Ayr click on a selected area of the maps below.
The maps on this website have been reproduced with the permission of Collins Bartholomew. Please note that these maps may date back several decades. Much of the human detail will have changed but the character of the rivers and lochs, and the trout and salmon in them, will be much the same as they have always been.
In addition to the information provided here, I would recommend that anyone planning a fishing or walking trip in Scotland should equip themselves with a compass and the appropriate Ordnance Survey map. The most useful of the O.S. maps for the fisherman is the Landranger series, scale 1:50,000. For each of the lochs and rivers listed here, I have given the relevant O.S. Map number.