Step by Step dressing of a Scottish Shrimp salmon needle tube fly
by John Gray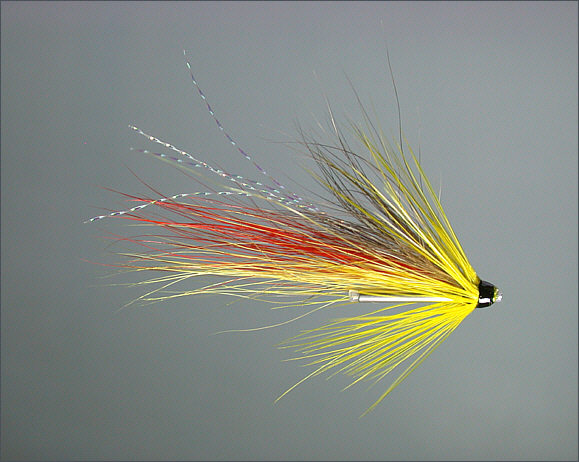 A Spey Shrimp tied Scottish Shrimp Style
Ally's Shrimp and the Cascade Shrimp, devised by Ally Gowans, are two of the most successful salmon flies to come out of Scotland in recent years. Over the past couple of decades, many salmon fly tyers have adopted Ally's style to create countless variations on his theme. It might be said that Ally's patterns have led to a whole new style of salmon fly, which I will refer to as "Scottish Shrimps". The essential features of this style of salmon fly, as illustrated in the example below, are:
A long tail or lower wing, usually of mixed coloured hair
A shorter upper wing, usually in a darker colour than the tail

A collar hackle made up of one or two coloured hackles
Scottish Shrimps can be dressed on single, double or treble hooks, or on the wide range of tubes now available to the salmon fly tyer.
The "Scottish Shrimp" style is very adaptable and even a single change of colour in any of the component parts of the dressing can alter the appearance of the fly dramatically, enabling the fly tyer to dress a range of flies, in various sizes, weights and colours, to suit the varying conditions of water and weather he is likely to meet throughout the season. Ally's flies were generally dressed with a two part body dressing, e.g. silver and black in the case of the Cascade or red and black on his Ally's Shrimp. The Scottish Shrimps shown below have been dressed on slim stainless steel needle tubes, making a body dressing, to my mind, unnecessary and thus greatly simplifying the dressing. The fly used in the step by step illustration came about by chance. On a recent walk with the dog along the banks of the Spey, I disturbed a buzzard at his lunch of red squirrel. Thinking that he would have little use for the fine brown tail, I stole it and made use of it in this pattern, which I have called the Spey Shrimp, and in several other Scottish Shrimp style patterns illustrated below.
Tying the Spey Shrimp
Materials

Tube: 15 mm needle tube
Tail/Underwing: orange over yellow fox squirrel tail with a few strands of pearl Krystal Flash over
Wing: red squirrel tail (or other fine brown hair)
Hackle: yellow cock hackle

Note: Arctic fox hair, or other fine hair may be used in place of the squirrel.
Step 1: Secure needle tube in needle tube vice and lay a short bed of black thread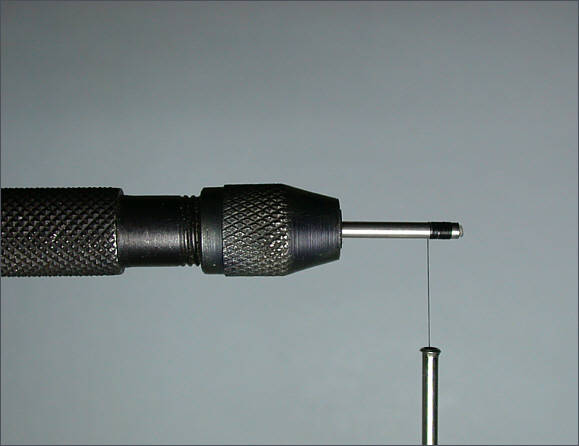 Step 2: Tie in a bunch of yellow hair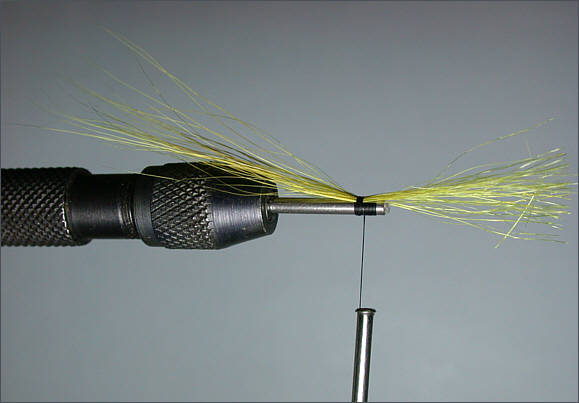 Step 3: Tie in a bunch of orange hair then a few strands of Krystal Flash on top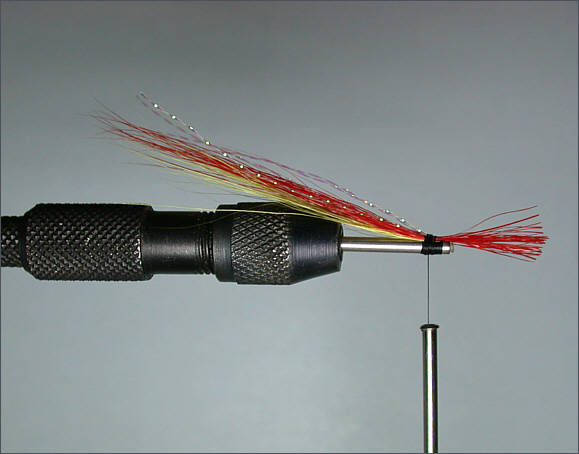 Step 4: Tie in a shorter bunch of brown squirrel hair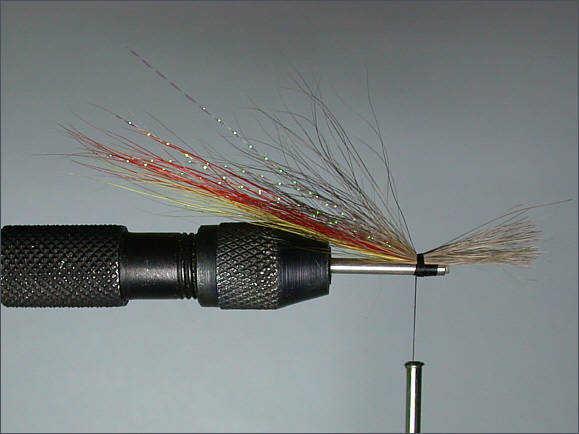 Step 5: Tie in two or three turns of a yellow cock hackle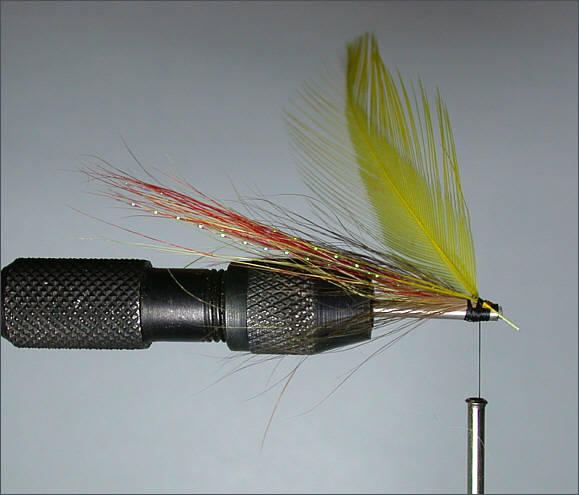 Step 6: Pull hackle back to desired angle and form a neat head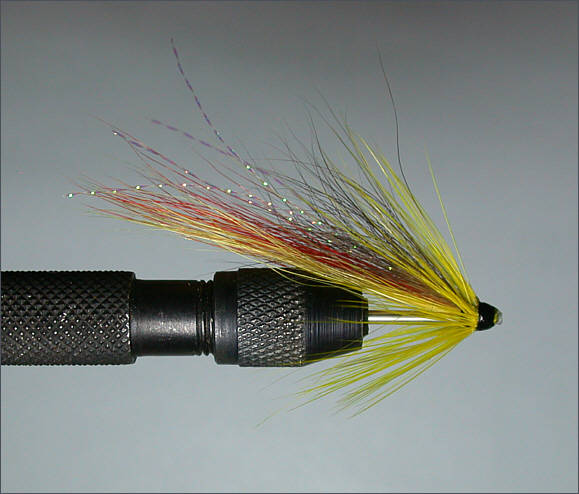 Step 7: Finish with two or three coats of Cellire No. 1 varnish, add a link of clear PVC or silicone tubing and a hook of choice

More Spey Shrimps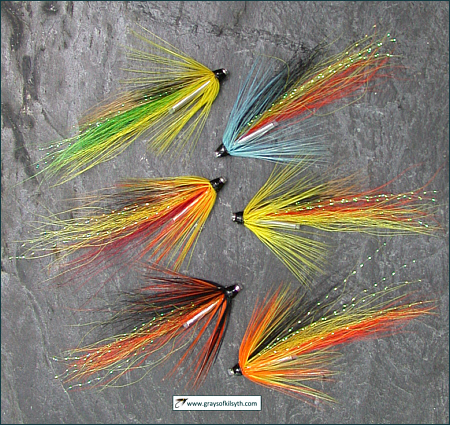 See also How to make a knot guard (or swing tube) for a Free Swinging Tube Fly Hook
For more information on Grays Needle Tubes, see Fly Tying Tubes and Salmon Tube Flies