Step by Step tying of a Cascade Salmon Fly
by John Gray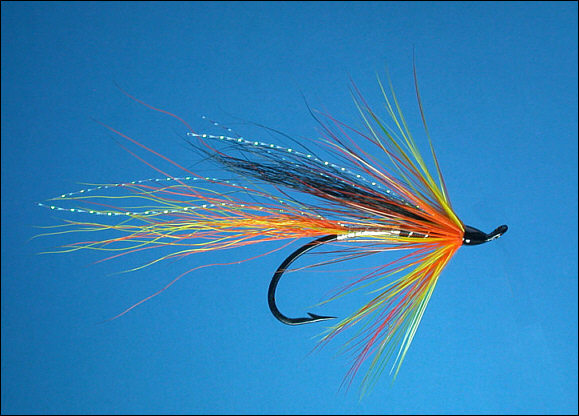 The Cascade Salmon Fly
Following the remarkable success of his Ally's Shrimp, one of the most successful salmon flies of all time, Ally Gowans went on to create yet another classic in the Cascade. Indeed, in the space of little more than a decade, the Cascade has established itself as probably the most used of all salmon flies, certainly here in the UK, rivalling even Ally's Shrimp in popularity. Dressed in appropriate sizes and weights, the Cascade may be fished effectively throughout the season.
Tying a Cascade Salmon Fly Single
Materials

hook: single, double, treble or tube
tail: hot orange & yellow bucktail with clear Krystal hair.
body: half silver and half black floss silk with medium oval tinsel rib.
wing: silver Krystal Hair and black squirrel.
collar hackles: yellow & hot orange.
head: black thread and varnish
Step 1 - Wind a bed of thread towards the tail and tie in a few turns of oval silver tinsel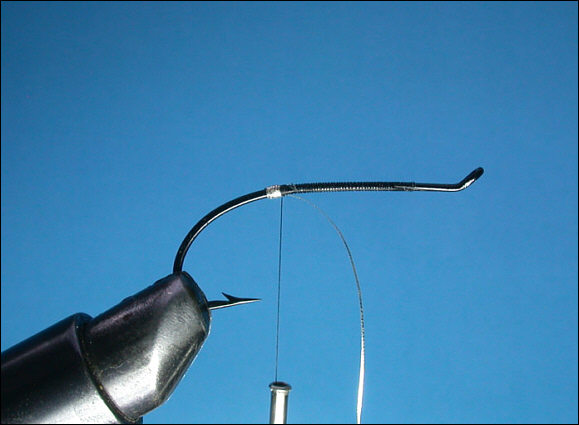 Step 2 - Tie in a tail of mixed yellow and orange bucktail plus a few strands of Krystal Flash; wind an even bed of thread midway up the body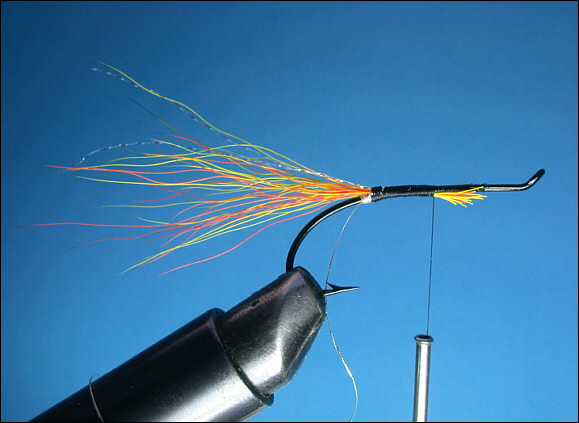 Step 3 - tie in silver tinsel, wind to tail and back, add black thread or floss to form front half of body. Overwind with oval silver tinsel.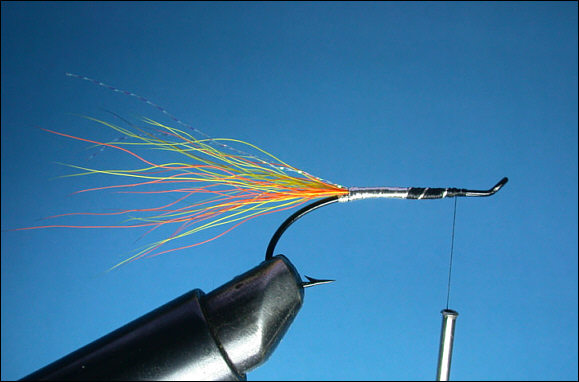 Step 4 - Add a wing of black squirrel tail and a few strands of Krystal Flash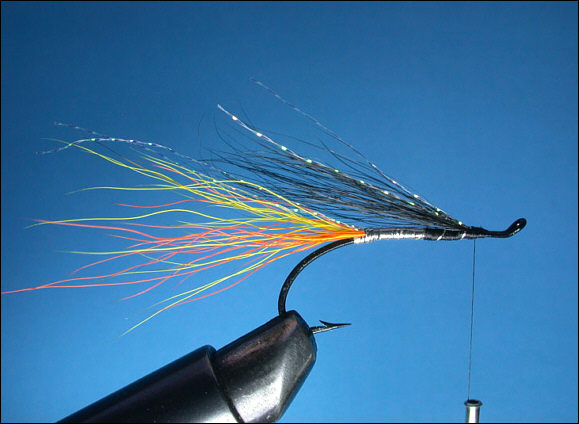 Step 5 - Wind two or three turns of yellow cock hackle, followed by two or three turns of orange cock hackle; form a neat head and varnish with two or three coats of Cellire No. 1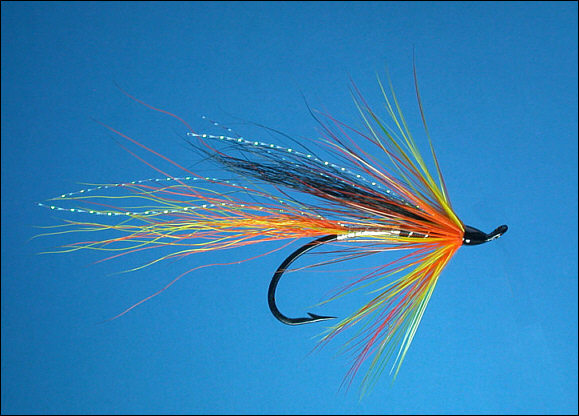 The Cascade Salmon Fly may be dressed on singles, doubles, trebles or tubes.
Cascade Double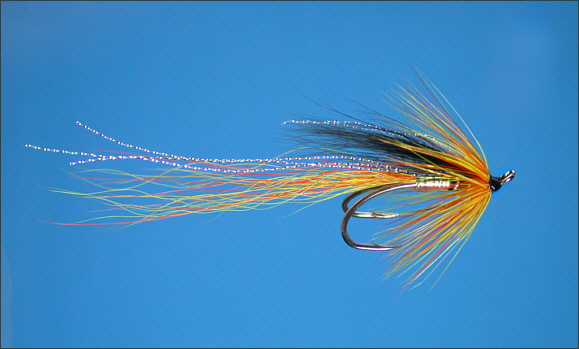 Ally Gowans himself produced the first variant, by substituting gold for silver on the rear half of the body. Since then, the Cascade has spawned numerous variants, the Ness C for example, in which purple replaces the black in the body, and the Park Shrimp, which adds jungle cock cheeks.
The Cascade can also be dressed most effectively on the multitude of tubes now available to the salmon fly tyer. The pattern lends itself to a bit of minor tinkering here and there. For example, squirrel tail or Arctic fox may be substituted for the original bucktail. A minor change of just one colour, in the tail or hackle mix or in the wing, can alter the appearance of the fly dramatically, as in the examples below, yet the origin of the resultant variant is undeniable.
The Cascade Tube Fly - a simplified Cascade, omitting the body dressing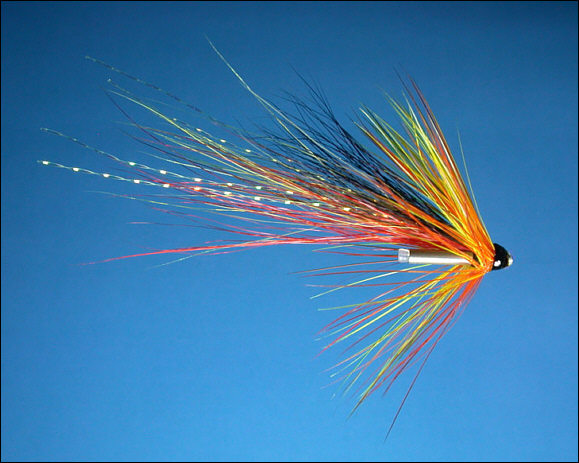 The Highland Cascade – substituting green for the orange in the tail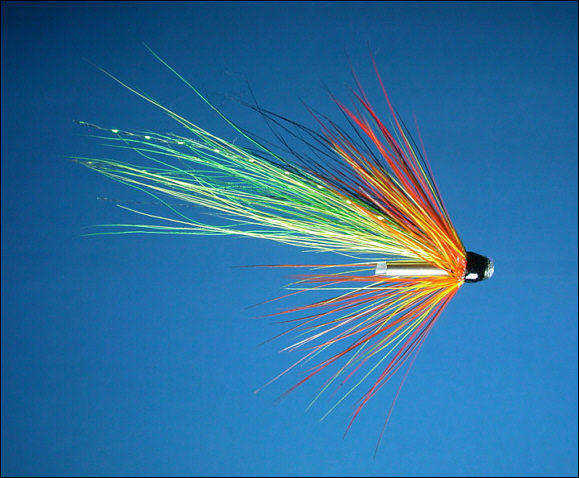 The Fiery Cascade – substituting red for the black in the wing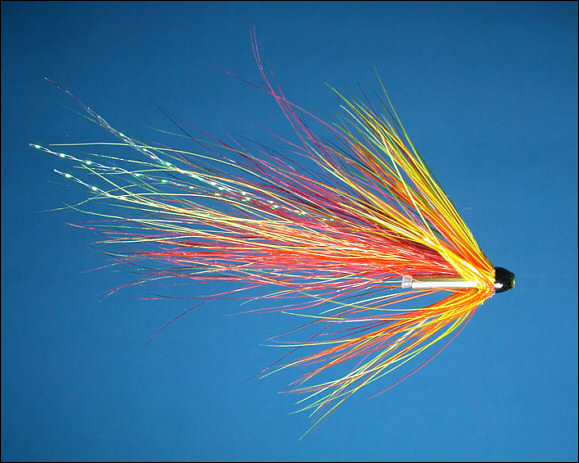 For more information on Grays Needle Tubes, see Trout and Salmon Flies