Site Contents
Sea Trout Fishing on Loch Hope Scotland
O. S. Map 9
Loch Hope, fed by the six mile long Strathmore River, and drained by the one mile long River Hope, has long been regarded as one of Scotland's best sea trout lochs. Boats can be hired at both the north and south ends of the loch and rods might be available on the Strathmore river but only rarely on the River Hope.
Fishing on the loch is by fly only (including dapping), with the fishing getting underway in June and continuing through July and August, generally the best months on the loch. The Altnaharra has a number of boats on the loch, which may be hired by visiting anglers. The Ben Loyal Hotel also has a boat. A normal season might produce in excess of 500 sea trout with an average weight of two pounds. Salmon are also caught, averaging around six pounds.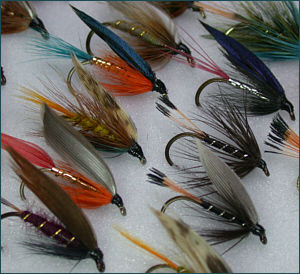 flies by Grays of Kilsyth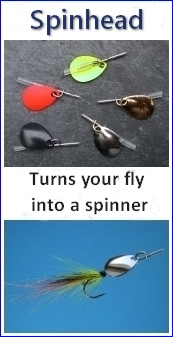 Resources

Loch Hope - Fishing Map
To view a larger scale map of a particular part of the Loch Hope area click on a selected area of the map below.
The maps on this website have been reproduced with the permission of Collins Bartholomew. Please note that these maps may date back several decades. Much of the human detail will have changed but the character of the rivers and lochs, and the trout and salmon in them, will be much the same as they have always been.
In addition to the information provided here, I would recommend that anyone planning a fishing or walking trip in Scotland should equip themselves with a compass and the appropriate Ordnance Survey map. The most useful of the O.S. maps for the fisherman is the Landranger series, scale 1:50,000. For each of the lochs and rivers listed here, I have given the relevant O.S. Map number.