Scottish Fishing Days and Nights 1991

by John Gray
April 1st Easter Monday
Alan and I took up a complimentary Father and Son ticket on Newmills Trout Fishery, Lanark, fishing from 10am to 7pm.
A very wild, wet and windy day but we were well clad and stopped for frequent cups of coffee. I ended up with my 5 fish limit, the last fish on the last cast of the day, all nice rainbows averaging around 2 pounds. Alan resorted to maggots on the fly in the bait ponds, which resulted in three fish, biggest around 3 pounds
The permit at Newmills is normally £13.50 per adult and half price for juniors. All my fish were taken on a marabou Montana/Woolly Bugger variant fished on a DT6I Leeda Intermediate line.
Dressing
Size 8 Drennan Traditional hook
Body: green fluorescent wool with palmered black hackle and silver rib
Tail: black marabou
Sunday 28th April
Johnny's Dam (Birkenburn Reservoir)
A stiff forty minute walk from the East Corrie farm brings me to Johnny's Dam, usually marked on modern maps as Birkenburn Reservoir, in the hills above Queenzieburn. Good sport in a cold east wind, with five fish up to about half a pound in two hours fishing, taken on a size 12 Black Pennell variant with a tail of mixed orange and pink fluorescent floss.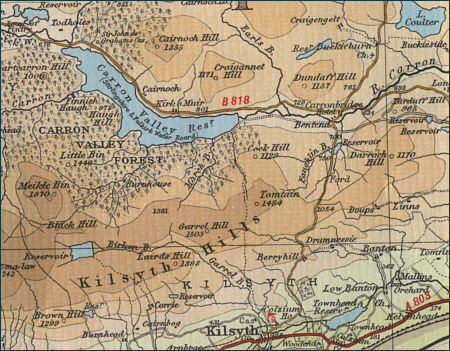 Kilsyth Hills
I paid another couple of visits to Johnny's Dam in May, facing a cold north east wind each time, again taking four or five fish in a couple of hours. Trout averaged about three to the pound and were in excellent condition. Again I found the fluorescent tailed Pennell effective, with a Mallard and Claret also doing well. The trout were free rising, often taken within inches of the undercut peat bank.
Monday 6th May (holiday)
I thought I'd have a go at some hill loch fishing a bit further afield. After studying the O.S. maps, I settled on a group of small lochs to the south of Aberfeldy (see map to the right)
I parked on the A826 at the foot of the forestry track leading to Loch Hoil. There I found a boathouse with a boat but I fished from the bank. I took two trout of about 6 ounces from the east side of the loch, in the company of a colony of seagulls, plus wagtails, grouse, curlews and several white tailed mountain hares. After two or three hours on the loch, the weather turned cold and wet so I made my way back down the hill. By 3 o'clock I was on the roadside loch, Loch na Craige, where I took half a dozen small trout from the side farthest from the road. To round things off, I wanted to look at an even smaller loch to the east of the road, Loch Creagh. I found this loch surrounded by newly planted conifers, with weed and green algae all over the loch - no sign of any fish life. A good day in the Perthshire hills.
Monday May 27th (holiday)
Had a run over to Loch Fitty for a day on the boat with Alan. We took a Father and Son ticket for the whole day (10am to dusk) for £27 with a fifteen fish limit. The day started warm and calm with some intermittent cloud cover - excellent overhead conditions but more wind was needed. Luckily this arrived early afternoon and continued throughout the afternoon, quite a strong east wind.
On my very first cast of the day, a two pound rainbow trout took my Connemara Black on the drop, fished on an intermediate line. Through the rest of the morning, we chased every breath of wind and I had another couple of hard earned fish. In the afternoon the wind rose and we had some excellent drifts, taking one or two fish along the north shore, but most of our trout were caught in the bay on the south side of the loch, in the lee of the breakwater.
We ended the day with our 15 fish limit, all rainbows averaging just under 1 1/2 pounds, with the best around 2 1/2 pounds, having returned one or two smaller fish. The loch seemed very well stocked. The trout rose well to small flies, tens and twelves, fished mainly on floating line. Effective flies included a copper pheasant tail nymph on the tail; Black Pennell muddler in a rough wave; Wingless Pearly Wickham with orange fluorescent tail. Alan caught 4, a good result on this his first go at fishing the fly from a boat. I used a rod built on an 11 ft 3 ins Bruce and Walker Century blank with a DT6 floater. This was effective but quite tiring - it would make a good sea trout rod. Most fish were taken on the floating line. Most other boats seemed to be using drogues or anchors but we found that free drifting, quite fast at times in the strong wind, was effective and more interesting.
Verdict: A nice setting, good boats and motors, well stocked and well organised fishery at a fair price = good value.
River Endrick 1991
It's been a dry Spring. There were several spates during June and one or two fish have been caught, including a few sea trout at the Meetings. Alec even had 2 sea trout from the Dam in June. I fished the Meetings twice in early July with no sign of fish. Alec tells me that there are fish up after a good spate on the Dam July 1st. Fish are being caught in Loch Lomond and one or two in the River Leven.
2nd July
The Dam
6 fishers on the Dam. A very mild night but not properly dark till midnight. No sign of fish moving. I had no touches. Only Alec had one fish about 2 pounds half way down the pool. The river was fairly low but with some flow.
4th July, Dam, 11 pm - 2 am
2 sea trout
I had the dam to myself. A clear mild night. No fish splashing but movement in the water indicated the presence of fish. I had 2 fish between 11pm and midnight under the beech tree, both 2 pounds. Fish taking eagerly with my size 10 fly with 5 maggots almost swallowed. One or two fish entered the pool during the night, especially around 2am, when I heard some hefty splashes near the pool tail. Very little flow.
Both fish carried a number of sea lice, at least half a dozen on each, but the fished appeared to be in good condition.
The grass etc. has now been cleared along the bank - what a difference.
5th July, Dam, 11 pm - 1 am
The Dam is a bit lower but a bright mild night just like last night. Virtually no flow. No fish caught among three fishers. More rain forecast for Sunday. Following spates 9th and 11th July the river was then running at a fair height. I have had no more success at night, Perhaps the river needs to settle. There have been reports of fish running the Pots. Alec had a grilse just below the Dam.
Will there be too much rain for night fishing on the Spey next week?
13th to 20th July River Spey
Four Sea Trout
We stayed at Pollyanna's Cottage in Nethybridge. We took permits for the Strathspey Angling Improvement Association water, £40 for the week (£6 for Alan, under 16). Heavy showers throughout the week kept the Spey running at about 6 inches above summer level, a little high for good night fishing. I discovered some lovely pools e.g. the Saddle, Bushes, Auchernack Burn, Little Stream, Upper and Lower Bends, the Lurg. See Fishing the Spey
On the first night, I had two lovely sea trout of 2 lbs and 3 1/2 pounds from the bushes on a size 6 Mallard, silver and claret, dressed on a lightweight Aberdeen hook.. On the last night I had another two fish from the Saddle. There were very few night fishers on the river. An excellent first visit to the Grantown Association water. I hope to be back when the river has settled to a good night height. See Spey Sea Trout and Sea Trout Nights
Sunday 22nd July Midnight
Back on the Endrick, only Alec and I fishing the Dam. The river is low with only a slight flow at the top of the pool. Alec lost a small fish at the net but there were fish in evidence.. A good number of salmon are being caught.
Friday 9th August
After a fair bit of rain overnight, the Garrell has risen a bit. The Endrick may be worth a try tonight.
Result: there was no spate on the Endrick, which was running low. 6 Fishers on the Dam. Colin had two and Alec one.
Monday 12th August 10 pm - 1 am
1 sea trout
Only two others on the Dam who didn't catch any. I had a lovely sea trout of 4 1/4 lbs about 11pm under the beech tree, hand lining slowly, on a size 10 fly with 5 maggots. No sea lice but in lovely condition. River very low.
*I wasn't certain this was a sea trout so sent scales to Andy Walker at Faskally. These showed the fish to be a maiden sea trout 3.2+ i.e. 3 years in freshwater plus two sea winters.
Thursday 15th August R. Leven 10 pm - 1 am
2 finnock
A rare visit to the Leven, which seems to have been fishing poorly. It was a nice night but very few fishers about. I caught 2 finnock about half a pound each on a size 10 longshank - silver body, palmered black hackle, fluorescent pink tail.
Sunday 18th August Dam midnight - 1 am
River running very low. No other fishers. A few fish moving. I hooked a good fish (maybe foul hooked) which took off downstream at a rate of knots. I must have put too much pressure on the 6 pound nylon which broke.
Wednesday 18th September 8 pm - midnight
Due to lack of rain and very low water levels over the past month, I fished very little. Tonight, on a cool and windy night, I tried the Turn Lynn without success. It may be worth a try in slightly higher water.
Friday 20th September Dam 10pm - 12
1 sea trout
Alec had one about 2 lb when I arrived. I caught one of 1 1/2 lbs after only a few casts then no more touches. Rain forecast for the coming week.
There was a good spate on 22nd and an even better one on Tuesday 24th.
Wednesday 25th September 12 midday to 6 pm
I fished from the Dam to Kiltrochan, on a very bright day with the river dropping too low for the Dam itself. On the way down I waded across and netted a 10 lb salmon for a fisher on the "other side" below the Dam. It was his first salmon on the fly.
Wednesday 25th September 8 pm - Midnight
1 grilse, 3 sea trout
No fish were showing but there had been a good run of fish into the Dam. With a full moon high in the sky and no cloud, 6 fishers had gathered. A total of about 15 fish were taken that night, of which I had four - one grilse of 3 1/2 pounds and sea trout of 2 3/4lb, 1lb, 1lb. All were taken between 10pm and 11pm in the middle of the pool, with the river running at a good height for the floating line.
Thursday 26th September Dam
1 sea trout
A bit more cloud than last night and a bit milder. Still a reasonable flow on the Dam but no fish moving. Again about 6 fishers. I caught the only fish of the night, a sea trout of 2 lb 6 ozs, at 10.30pm in the middle of the pool above the stone while employing a slow figure of eight retrieve.
Monday 30th September
River Blackwater and Tarvie Loch
The Blackwater (Loch Achonachie A.C. water) had dropped a bit too low over the weekend. 30 salmon had been taken the previous week but nothing today. We adjourned to the Tarvie Loch fishery. A nice wee loch but no evidence of fish. We concluded it was poorly stocked.
Friday 4th October Dam 7 am - 8 am
Water level high, covering the stone, and a very dirty brown. One or two fished moved but probably won't fish till later in the day. Showers are forecast. A few fish have been taken around Coolies during the week.
Wednesday 9th October
Fished the Endrick all day. Start of fishing was delayed by a visit to the Balfron Health Centre, to stitch up a finger torn while jumping a barbed wire fence above Coolies. Then fished Coolies and Drumtian stretches. Saw the odd fish but the river a bit on the low side.
Wednesday 16th October Dam 9 am - 6 pm
1 salmon
Heavy rain through the night saw the Dam slightly too high and dirty but fishable. There were only three others on the Dam for most of the day, plus two on the opposite bank (they only had one fish on the worm). Peter W lost two fish early on. I caught one fish, a coloured cock salmon of 6 1/4 lbs at 1pm when the river had fallen to a good height, just covering the top of the stone. The fish was taken in the run on the dangle just above the beech tree. Fly size 8 treble red/orange shrimp.
Alec caught 17 fish (salmon and sea trout) in ten days in the Coolies area.
30th October LAST DAY
River slightly high and too dirty at the Dam. I drove up to Netherton, which was looking good. I fished down to Coolies, having trouble with leaves but conditions were improving as the morning progressed. One or two fish reported seen but nothing caught.
Alec and I went down to the Dam at 2pm and fished till dark. Conditions looked ideal, a lovely autumn day with the river dropping and clearing. Leaves were now less of a problem. Nothing caught, not even on the worm on the other side!
Season 1991
14 Sea Trout
2 grilse
I didn't fish as often as in past years due to the long dry summer (from mid July to mid September). The sea trout seemed to appear in September which was a bit too late. There seemed fewer grilse. On the whole, the worst season in my experience to date.
I have applied to join the Comrie and Crieff clubs on the Earn, though both have waiting lists. I have also applied to join the Allan Water Angling Association.