Site Contents
Sea Trout Fishing on River Ythan Scotland
O. S. Map 38
The River Ythan rises from the Wells of Ythan, at the eastern end of Strathbogie, and flows the thirty odd miles eastwards to enter the North Sea, via a four mile long estuary at Newburgh. It is on the estuary that the fishing is concentrated, with anything up to around 2000 sea trout, and a small number of salmon, are taken each year.
Much of the fishing on the estuary was leased on a timeshare basis a number of years ago - a great loss to both the local community and the visiting angler generally. Day permits may occasionally be available when the time-shared beats are not in use. The local angling club at Newburgh still has access to a limited area. It fishes well from late May onwards, peaking in July. Fishing may also be had further upriver at Methlick and Ellon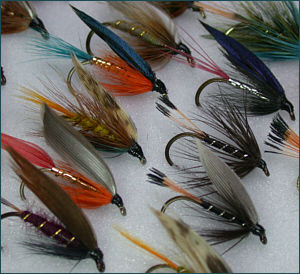 flies by Grays of Kilsyth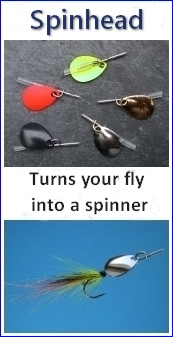 Resources
River Ythan - Fishing Map
To view a larger scale map of a particular part of the River Ythan area click on a selected area of the map below.
The maps on this website have been reproduced with the permission of Collins Bartholomew. Please note that these maps may date back several decades. Much of the human detail will have changed but the character of the rivers and lochs, and the trout and salmon in them, will be much the same as they have always been.
In addition to the information provided here, I would recommend that anyone planning a fishing or walking trip in Scotland should equip themselves with a compass and the appropriate Ordnance Survey map. The most useful of the O.S. maps for the fisherman is the Landranger series, scale 1:50,000. For each of the lochs and rivers listed here, I have given the relevant O.S. Map number.