Site Contents
Salmon and Sea Trout Fishing on North Uist Scotland
O. S. Maps 18, 22
Nearly all the fishing on North Uist is owned by the North Uist Estates Ltd., Lochmaddy, North Uist. The lochs of the estate can be fished by guests of the Lochmaddy Hotel. Around 150 lochs are available, some containing salmon and sea trout, and there is also excellent fishing on many sea pools, tidal waters which produce not only sea trout but also salmon.
On the North Uist lochs, the fishing is by fly only, while spinning and bait are allowed in many of the sea lochs. In addition to the fishing managed by the North Uist Estates, fishing permits can also be purchased for the lochs managed by the North Uist Angling Association. Fishing permits can be bought and boats can only be booked through the Clubs official outlet, The Westford Inn (Tel:- 01876 580653) during business hours of 11am-11pm. The Inn is situated halfway between Clachan and Bayhead on the A865.
Angling Clubs and Associations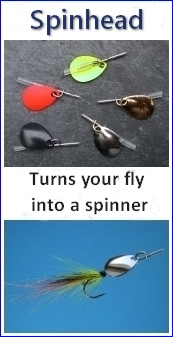 Resources

North Uist - Fishing Map
To view a larger scale map of a particular area of North Uist click on a selected area of the map below.
The maps on this website have been reproduced with the permission of Collins Bartholomew. Please note that these maps may date back several decades. Much of the human detail will have changed but the character of the rivers and lochs, and the trout and salmon in them, will be much the same as they have always been.
In addition to the information provided here, I would recommend that anyone planning a fishing or walking trip in Scotland should equip themselves with a compass and the appropriate Ordnance Survey map. The most useful of the O.S. maps for the fisherman is the Landranger series, scale 1:50,000. For each of the lochs and rivers listed here, I have given the relevant O.S. Map number.