A NEW SEA TROUT FISHING BOOK
Announcing the publication of a new sea trout fishing book by John Gray
"SEA TROUT NIGHTS"
For more information see
https://www.seatrout-fishing.com/sea-trout-nights-book.htm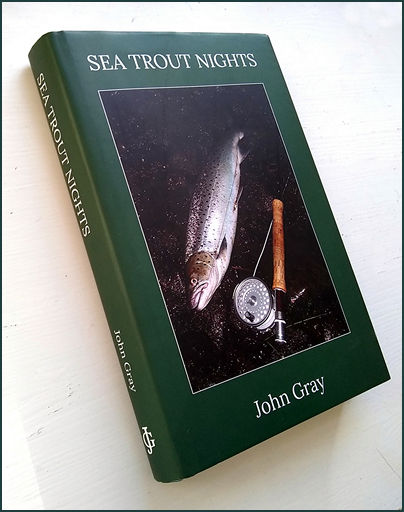 The book is now available for immediate dispatch
The author caught his first sea trout in the nineteen sixties, sparking an enduring passion that still keeps him from his bed on summer nights.
In PART ONE of this book, we follow him in his search for sea trout over some four decades on some of the best of our Scottish sea trout rivers, including the Endrick, Earn, Allan, Border Esk and Spey. He even makes a short but memorable foray to Wales along the way.
In PART TWO, he draws on a lifetimeís experience to guide the novice on his quest for that first very special sea trout to be caught on the fly at night. He gives sound advice on Where and When we might fish; how we might be affected by Water and Weather; the Ways and Means we might employ on the river; with a final detailed and well-illustrated chapter on Flies and Fly Tying, including some of the authorís own original and highly innovative, yet simply made, lures that have served him well for many years, including the Needle Fly and Needle Tube Fly.
John Gray was born in 1949. From an early age, with like-minded pals, he would pester the fishy residents of any local burn, pond or canal within a bike ride of Boíness, with occasional eagerly anticipated weekend trips on the Kinneil Pit Angling Club bus to highland lochs, fishing the fly and bubble float through the summer nights for wild brown trout. Increasingly the focus was to shift, when time and opportunity permitted, to sea trout and the occasional salmon. For half a century, the pursuit of sea trout during the hours of darkness has been the authorís abiding passion and he has caught them now on more than twenty British rivers and lochs.
After some years as a schoolteacher, in 1983 he opened a tackle shop in Kilsyth, which moved online in 2002, keeping the name Grays of Kilsyth, now specialising in the manufacture of Needle Tubes and Needle Tube Flies, which are to be found today in fly boxes the world over and have accounted for many notable catches, including Welsh sea trout to over 16lb, Norwegian salmon to 38lb, Canadian salmon to 34lb and North American steelhead to 16lb.
See sample pages at https://www.seatrout-fishing.com/sea-trout-nights-book.htm